Impact distribution
Review distribution pathways
Review distribution pathways
Even if you have made and released multiple films, take the time to read through the options as a refresher. This time round, think foremost about who are your target audience and how they consume their media. It's going to be critical in selecting the right distribution pathway for your project.
No doubt by tomorrow there will be some new platform or device for consuming media that will have created new verbs and lamentable jargon. But for now we'll stick to a review of distribution channels that have stood some test of time including: cinema/theatrical, non-theatrical, VOD, DVD/Blu-ray, and television.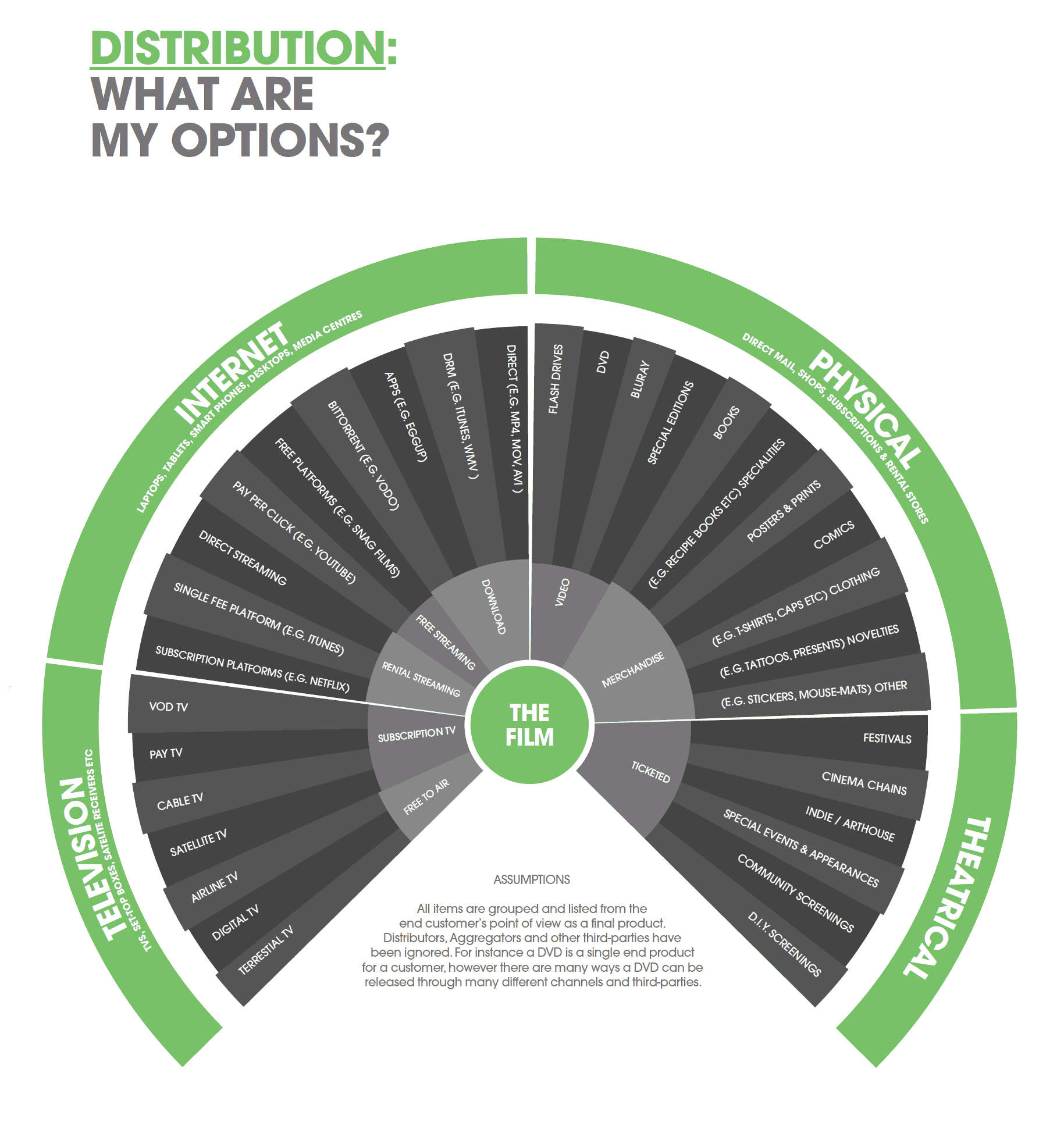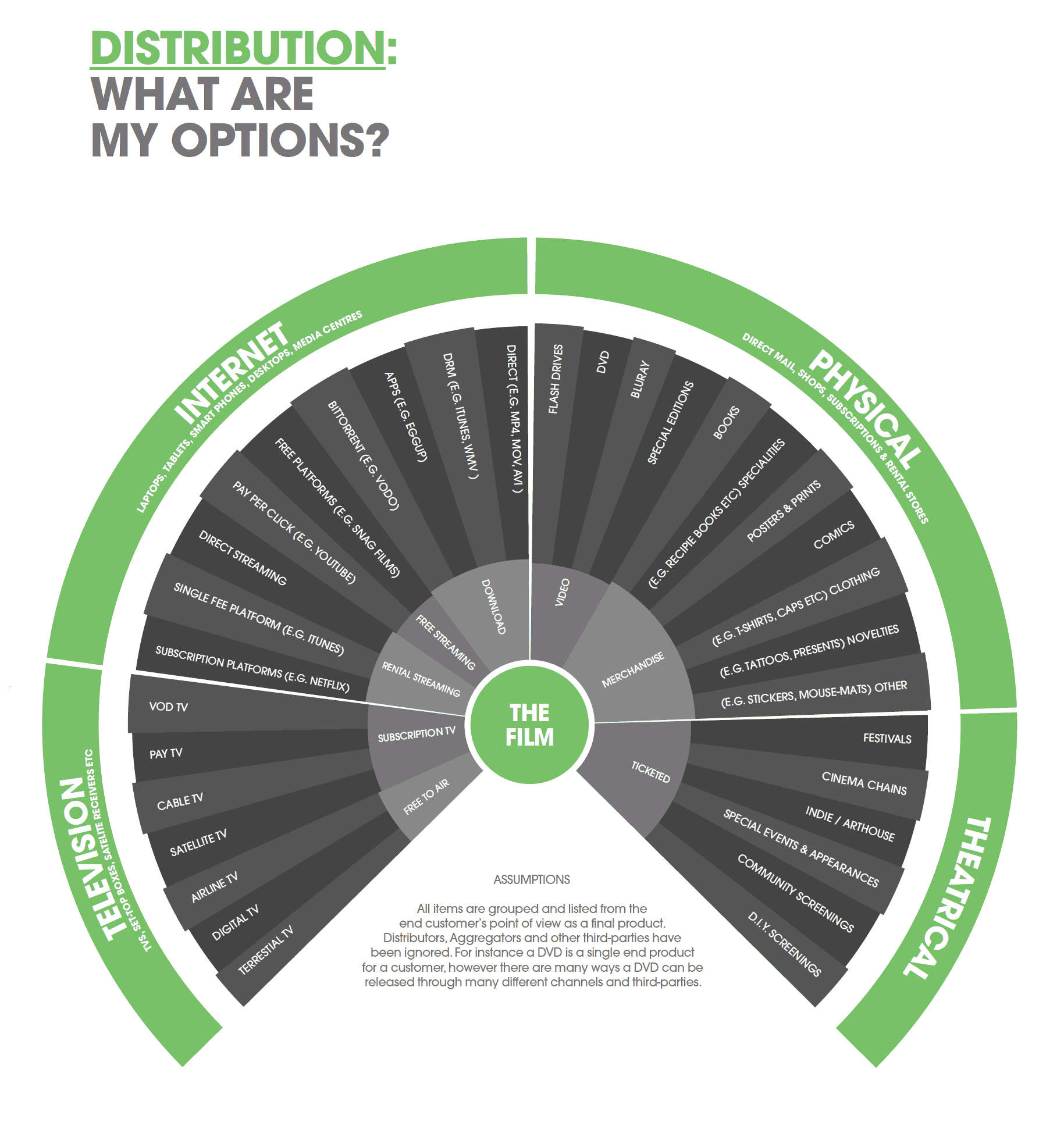 Hover
Cinema/theatrical
A major incentive to go the theatrical route is that this is the only way that your film will be eligible for certain prestigious prizes, therefore remaining in the spotlight for longer. For example in the United States, a feature length documentary must screen in both New York City and Los Angeles for at least one week in a commercial run, in order to qualify for an Academy Award.
Theatrical films are more likely get newspaper reviews and are more likely to translate out of the arts pages into features around the issue. If raising press awareness is an important part of your strategy, like it was for American Promise, who used an ambitious theatrical release in over 60 cities in the US to build awareness, dialogue and action around issues of black male achievement, then theatrical was strategic.
The most common method for securing a cinema release is to sell your film's rights to a distributor. They may offer an advance, perhaps guarantee some P&A spend. Remember, distributors will want to hoover up as many rights as possible at this point, since theatrical is often understood to be a loss-leader or promotional tool for ancillary rights but it may or may not be in your best interest to give these away.
But if you end up with no deal, it is not the end of the world. These days it is possible for a film team to self release into arthouse/independent cinemas, or even negotiate with a large chain. But you'll need to raise significant funds to support theatrical bookings, marketing and publicity. Many filmmakers are using crowdfunding to directly support theatrical runs, with successful campaigns raising between $15,000 and $100,000. Others are experimenting with the newer theatrical-on-demand model, which amounts to individual crowd-sourced theater screenings, through companies like Tugg and Gathr. But the verdict on revenue from these new models is still out.
'Domestic Sales agency deals should be limited to 6 months. In this day, if you can't sell a film within that time, filmmakers should have full ability to do what they like without involving (or having a revenue stream towards) their sales agent'
Non-theatrical screenings
From town halls to pop up mobile cinema units on the back of a truck, non-theatrical screenings have proven to be one of the most important tools for film teams wanting to create impact. Offering flexibility across a campaign, access to hard to reach audiences, and potential sources of revenue, many distributors are prepared to negotiate or even waive these rights as they are deemed a low priority or too time consuming to administer. This can give filmmakers a great opportunity to reach relevant audiences in wonderfully innovative and creative ways.
Look at The Age of Stupid - where the team retained non-theatrical rights and sold screening licenses direct from their website, allowing anyone anywhere to hold a screening of the film. Crucially, the organiser of the non-theatrical screening was encouraged to keep a slice of the profits for themselves or their campaign. Which empowered and engaged organisers and audiences before they had even seen the film.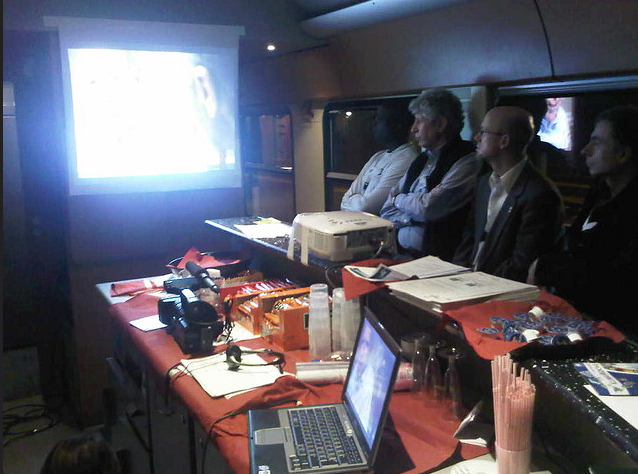 'The Age of Stupid' screening in the bar carriage of the UN train bound for Copenhagen
There are now specialised organisations who have the networks and relationships to deliver highly effective community screenings programmes. This includes organisations such as Film Sprout in the US, who have successfully toured films including The Invisible War & The End of The Line - and Active Voice who worked with Food, Inc and Who is Dayani Cristal.
VOD (cable / internet viewing)
The opportunities online are changing all the time and negotiating different types of internet rights can be fairly bewildering. We will try to keep this section updated with new innovations as and when they come up, and in the meantime, here are the essentials to get your head round:
Video on demand
Is a service provided by online platforms that allow consumers to view content instantly through internet connected devices such as; laptops/PC, internet connected televisions, console/over-the-top box connected TV's, tablets and smartphones. For filmmakers there can be some confusion in the breakdown of rights models, but there are three categories to consider when negotiating contracts or revenue streams.
Transactional VOD (TVOD)
a. Includes electronic sell through (EST) / Download to Own (DTO)
b. Includes download to rent (DTR)
With transactional VOD the customer pays for each individual video on demand program. Examples include: iTunes, Film4oD, Vimeo on Demand
Subscription VOD (SVOD)
Allows for a digital access of the content in which consumers are charged monthly fees in return for accessing the platform's full library. Examples include: Netflix, Lovefilm
Advertisement supported VOD (AVOD)
Viewers are allowed to watch content for free, however they must watch advertisements at various points throughout the film. A portion of the ad revenue is then returned to the content provider. Example: Youtube, Hulu (US), Snagfilm
These digital rights can be described differently depending on the territory and it's important to understand the context of each and how they fall within digital release windows in order to maximise your potential revenue as well as optimise reach to your target audiences.
Looking at a US example, say you're working with a sales agent and sell your film to an all-rights distributor or digitally-driven distributor, chances are they'll take all forms of Internet VOD. This means, for the sake of argument, they'll control licensing for transactional VOD and EST outlets like iTunes and Amazon VOD; subscription VOD outlets like Netflix; and Free/Ad-based VOD which includes outlets like Hulu as well as any possible direct sales from the film website.
Filmmakers self-distributing still need to work with an aggregator (like The Orchard) or a supplier (like Quiver Digital) with an existing output deal for all these digital retailers. In the US, for many impact docs in particular, television rights often have certain 'holdbacks' on what types of Internet VOD a filmmaker can exploit outside of the Television deal.
For example, a Television broadcast deal that was done prior to the film being completed (and which usually includes a license fee) may prevent a filmmaker from licensing SVOD and/or AVOD during the Broadcast Term - put simply, you may not be able to screen your film on any internet platforms until you're out of the contracted term with a TV broadcaster. And further to that, there may be very specific windows where the film team may exploit TVOD. This may prove very significant, and knowing your stuff can help you manage the complexities of these deals properly.
Geek Out: Ideas for further reading
DVD / Blu-ray
For some time the cry has gone out that 'DVD is dead'. The writing has been on the wall for DVD for some time, and the sales figures show its high-quality replacement Blu-ray isn't filling the gap in quite the same manner. As a result, the traditional 'DVD distributor' has all but vanished. These days we see a decreasing interest from distributors in taking sole DVD rights. Most often, they'll only take DVD rights bundled with other rights like VOD.
But it's important to remember that DVD might still be the most appropriate platform for reaching certain audiences - think older audiences or films that lend themselves to being collected or archived. In addition, the educational market (schools, colleges, universities and other institutions) is still dominated by DVD, though that is changing, too. And finally, let's not forget that community screenings are generally still powered by the humble DVD or Blu-ray.
Other than educational and community screenings there are really only two options for DVD. You can sell through retail channels (that's large shops, stores and supermarkets as well as the remaining big online retailers) or direct from your website (and through your partners or affiliates). Apart from Amazon, most retail channels are obsessively focussed on the easy-to-market blockbusters, so convincing them to take a documentary can be nigh-on impossible. Usually these channels can only be accessed through a distributor, but that said, there are plenty of niche smaller retailers who may take an interest in selling your DVD. Remember though that this can often end up being a lot of work for relatively small reward.
If you are making DVDs for educational or community Screenings (or both) then it makes a lot of sense to sell the DVD direct from your website. There's lots of tools that enable you to do this like Assemble, Shopify and even Amazon. It's important to and plan and think carefully about the upfront replication costs when doing DVD direct as these can be significant. You'll also need to arrange to author the DVD (which is technically quite tricky), create artwork for print, possibly apply for a rating (like the MPAA in the United States or BBFC in the United Kingdom). If you're selling retail you'll need a Universal Product Code (UPC) and a Barcode, too (make sure you test it before shipping). That's before you've even thought about fulfilment, namely the process of 'picking and packing' - that is, shipping your order out to customers. Specialist fulfilment houses (in the United States that includes Whiplash, Acutrack or E-fulfilment) can take this off your hands but obviously you'll need to factor in their fees. Some filmmakers have ended up doing the fulfilment themselves for smaller quantities though this gets tedious very quickly.
It's easy to see, given the trend towards lower demand for DVD, why some filmmakers don't bother with DVD at all or go for a DVD-on-demand service (like Amazon's CreateSpace or Acutrack). These services are much higher quality than they used to be, but end up being more expensive per unit (that's the cost per DVD). You can negotiate to purchase DVDs from your distributor at a reduced rate or wholesale price. On the surface this can seem like a poor deal but if the price is right it'll save you the hassle of managing the process in house.
Given the rapid rise of VOD, it's quite possible to ignore DVD, but if educational or community screenings are an important part of your strategy, then perhaps think about getting all your DVDs made in one go - it'll be much cheaper.
Geek Out: Ideas for further reading
Television
With so many innovative routes to audiences, it can be tempting to gloss over the role of good old TV in your Impact Distribution campaign. That would be a massive mistake.
According to Nielsen's March 2014 cross-platform report, overall time spent watching TV in US households was 155 hours and 32 minutes per month. The average adult spent 5 hours and 4 minutes per day watching TV and 32 minutes per day watching time-adjusted TV via live streaming, VOD, DVR and mobile devices. This is massive.
TV is still the most consistent method to reach general audiences both nationally and internationally, a TV broadcast will often create a new tide mark in public engagement with an issue and can be of real value to campaign partners some months or even years after the initial release at festival or theatres.
Take a film like Bully, first released in 2011 which had already been seen by over 3.5 million kids before its U.S. broadcast in October 2014 on Independent Lens during National Bullying Prevention Month. This platform allowed the film team to reach an additional 1.2M viewers in a single shot. It's also been estimated that over the course of a year, 86% of all U.S. television households - around 211 million people - watch PBS, which is pretty impressive reach even by Bully's standards.
Or Blackfish, which after a successful theatrical run was broadcast on CNN Films to over 24 million viewers in the USA, the tipping point for the phenomenal public response to the film, and the moment when SeaWorld realised it was not going to go away.
Let's not forget, broadcasters can make outstanding partners too - and can really engage with your ongoing campaign strategy. Skip back to the partners and funders section to find out more, but it's worth also noting here as an example that PBS have screened most of the Impact Award finalists over the years and also complemented screenings with a strong community engagement programme.
Another great example is American Promise, which reached around 1.5M viewers with their broadcast on POV, but also had the benefit of working with local PBS offices on great community engagement work. PBS SoCal, its South California office worked on the American Graduate campaign, organising events to help reduce school dropout rates and keep kids in education till graduation. Organising activities around American Graduate Day, they ran workshops for parents, children and students of all ages, and teachers, distributing interactive learning games, apps and other educational materials to keep kids engaged. You can read more about their community activities here.
'POV provides an invaluable service to educators. The content is fresh, timely, and extremely relevant to global, social, political, and economic studies. POV programming raises relevant issues, often inspiring action and motivation to create positive change...in ourselves and in our world'
Geek Out: Ideas for further reading