Impact distribution
Wheres Your Audience?
Wheres Your Audience?
A core rule of impact distribution is this: a great distribution deal doesn't mean much if it doesn't account for where your target audience is. So, in this section, we are going to think about the impact distribution conundrum from the perspective of audiences. Who are they, where are they and how do they consume media?
The graphic below offers a snapshot of a few popular distribution options in North America and the U.K.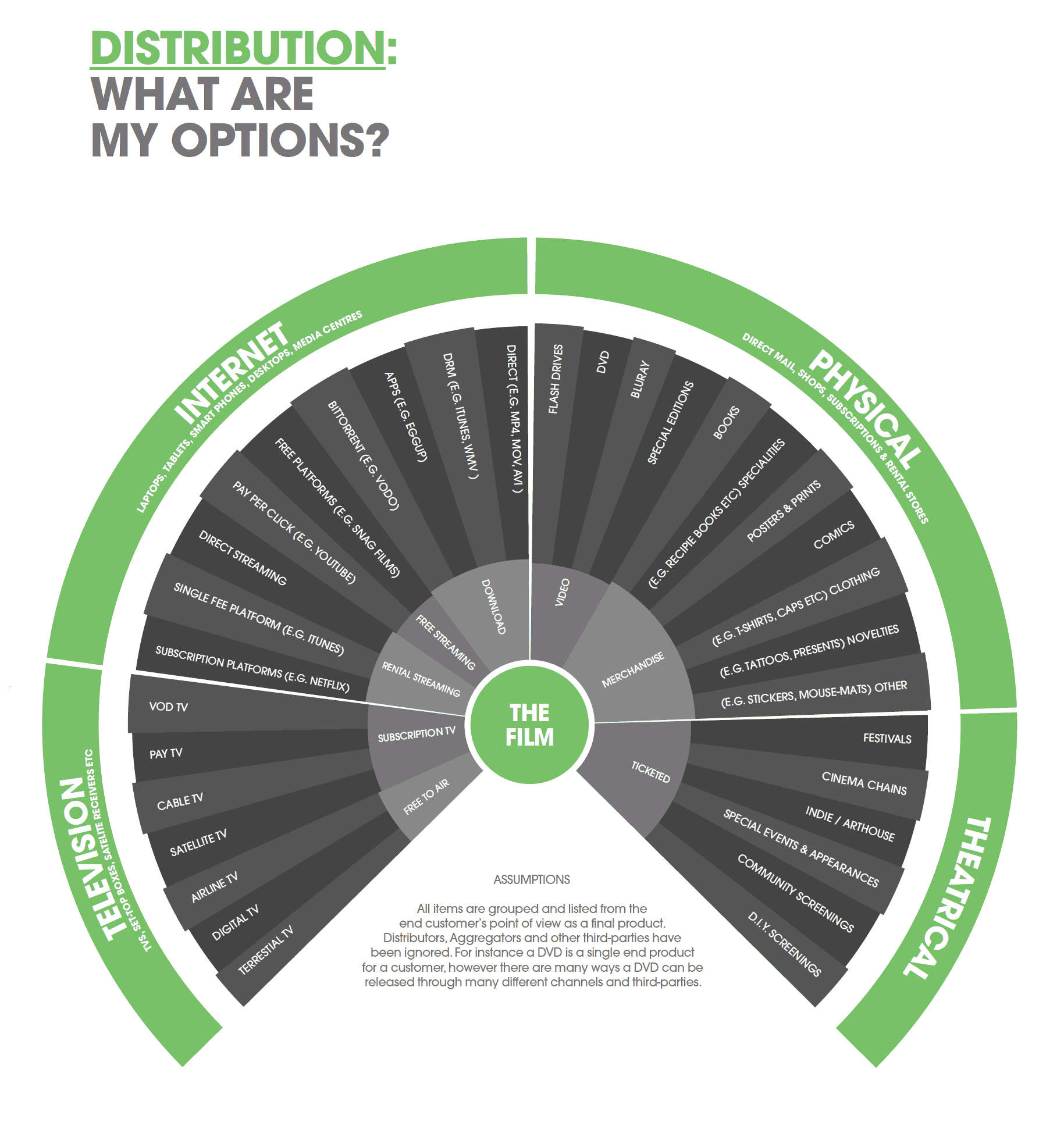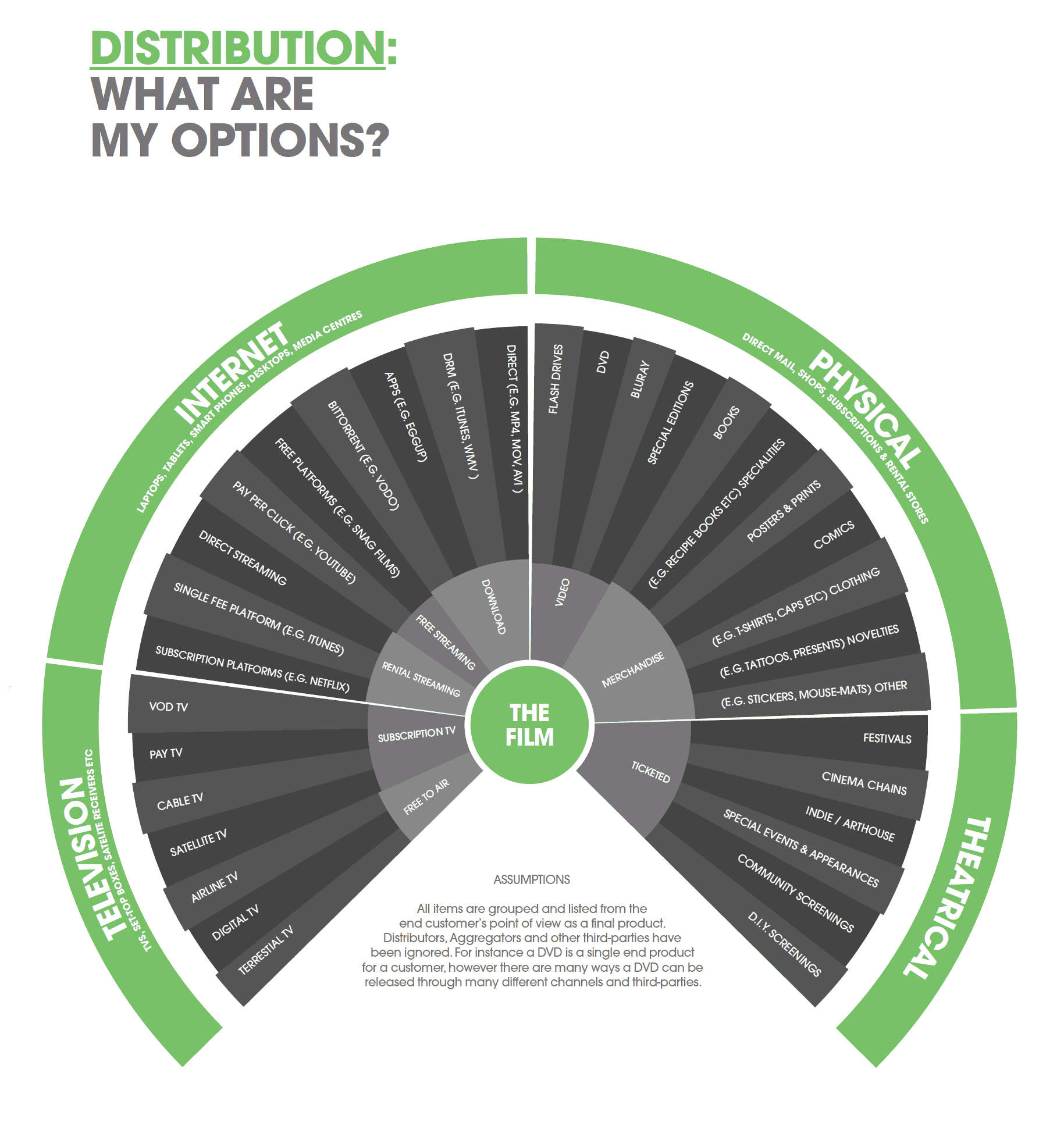 Hover
Cinemas/Movie Theatres
A major incentive for filmmakers to get their films into theatres has long been the mainstream attention it can garner. Traditionally, this has been the only way that your film will be eligible for certain prestigious prizes, and therefore remain in the spotlight for longer. But, in the U.S., new Academy rules mean that's no longer the case.
For the first time, the Academy's Board of Governors streamlined its rules for the 91st Academy Awards to say that films in the Documentary Feature category which have won a qualifying award at a competitive film festival will automatically be eligible for Academy Awards consideration. In other words, filmmakers don't have to jump through qualifying hoops, such as a theatrical release, to have a shot at the award.
Nevertheless, films that go theatrical are more likely get newspaper reviews and are more likely to translate out of the arts pages into features around the issue. So, if raising press awareness is an important part of your strategy - as it was for American Promise, who used an ambitious theatrical release in over 60 cities in the US to build awareness, dialogue and action around issues of black male achievement - then theatrical release could be a strategic choice.
Do consider the theatrical audience make-up when making your decision. The Motion Picture Association of America notes that in 2016 in the U.S., people making up the "Asians/Other Ethnicities" category reported the highest annual cinema attendance per capita, going an average of 6.1 times per year, whereas the number of white moviegoers in North America declined.
These days, it is possible for a film team to self-release into arthouse/independent cinemas, or even negotiate with a large chain. But you'll need to raise significant funds to support theatrical bookings, marketing and publicity. Many filmmakers have successfully used crowdfunding, or the newer theatrical-on-demand platforms, to do this. The latter amounts to individual crowd-sourced theatre screenings, through companies like Tugg and Vkaoo. Just be aware that it's often up to the filmmaker to do the outreach to fill the theatres, so have a plan to ensure that the money you spend to use these platforms pays off.
Be strategic about the theatres you choose, to ensure they are ones that your target audience can or will go to. And remember: ticket prices can be a huge barrier to entry for some audiences. That's definitely true in the U.S., where movie-goers can pay up to $15 in some states (though the average price is $8.65). If you're hoping to engage low-income audiences, you'll need to take this fact into account.
Non-theatrical community venues
From town halls to pop-up mobile cinema units on the back of a truck, non-theatrical screening venues have proven to be one of the most important tools for film teams wanting to create impact. That's because they can offer flexibility across a campaign, access to hard to reach audiences, and even sources of revenue.
While the ease of access to video content on a personal device has made it more difficult to attract audiences to an in-person screening when they know they can simply stream the film on their laptops, in-person events are very important, and sometimes vital, to social change. Caitlin Boyle of Film Sprout puts it this way:
'I think there is an inescapable human need to convene in person with one another. Films, like books or other forms of art, help us emotionally connect to an idea or issue. But there is something about the immediacy of film that allows us to do so together, collectively. And at a time when consumption patterns are increasingly solitary, and when algorithmic tools cater to our preferences in ways that isolate us into our respective opinion and taste silos, opportunities to gather together for shared, unifying experiences become vital. I notice that audiences tend to crave even more of it and ask for direction on how they can help and continue to be a part of the conversation. The emotional engagement in a bricks and mortar setting with other people just can't compare with other modes of watching the same film.'
So don't give up on the live, in-person events. You may need to work harder to get people to attend these days, but that's true across sectors, including retail, public services and more.
While traditionally, many distributors have been prepared to negotiate or even waive these non-theatrical rights - deemed a low priority or too time-consuming to administer - that's changing. Distributors are beginning to show interest in community screening rights too (sometimes called "educational rights"), but it may or may not be in your best interest to give these away because they can offer valuable opportunities to reach relevant audiences in wonderfully innovative and creative ways.
Look at The Age of Stupid - where the team retained non-theatrical rights and sold screening licenses direct from their website, allowing anyone anywhere to hold a screening of the film. Crucially, the organiser of the non-theatrical screening was encouraged to keep a slice of the profits for themselves or their campaign, which empowered and engaged organisers and audiences before they had even seen the film.
There are now specialised organisations which have the networks and relationships to deliver highly effective community screenings programmes. An example is Film Sprout in the U.S., who have successfully toured films including The Invisible War and The End of The Line. Internationally, there are organisations such as PictureHouse Event screenings, Together Films, and Demand.film.
VOD (Video on demand) platforms
On-demand services are provided by online platforms to allow consumers to view content instantly through cable or internet connected devices such as: laptops/PCs, televisions, tablets and smartphones, and even in-flight entertainment.
A benefit is that you can target your audiences online for flexible viewing in their own time. For some audiences, that might be important. Consider the documentary CARE. One of the target audiences for the campaign was home care workers - people who generally work multiple jobs at all hours and who were therefore very difficult to convene in person. So, the film team knew the online streaming option was going to be important to ensure that this audience would be able to see the film in their own time.
A potential downside is if your target audience is not online. So, check the numbers. For example, according to Nielsen's 2018 Q1 Total Audience Report, only about 50% of black households in the U.S. have access to SVoD platforms, compared to roughly more than three-quarters of Asian- American households. Another study has found that 'Hispanics' spend more time watching digital video than traditional TV. And the age group that spends the most time on these platforms is 18-24 year-olds, whereas 55-64 year-olds spend the least.
Another downside is that your audiences may not get the benefit of real-time, in person engagement through a VOD platform. This was important to the CARE film team, because home care workers are generally isolated from one another (due to the nature of working in homes). Therefore, providing them with an opportunity to connect and share reflections on the film felt important. So the campaign partner the National Domestic Workers Alliance set up a conference call time the day after the online release, in order to give home care workers in their network an opportunity to connect about the film from wherever they were.
Note that the streaming option for CARE was offered to audiences for free over a one-month period due to the film's public television broadcast deal. Filmmakers who don't have a public broadcast may turn to other fee-based streaming options. Or it might be that you'll do both!
But be aware: in the U.S., for many impact docs in particular, television rights often have certain 'holdbacks' on what types of internet VOD a filmmaker can exploit outside of the television deal until they're out of the contracted term with a TV broadcaster. So consider this if you're hoping to secure both. In addition, remember that if you sell your film to an all-rights distributor or digitally-driven distributor, chances are they'll take all forms of internet VOD. If these rights are important to you, you may want to negotiate to keep them.
Here are the basics in fee-based streaming models:
Transactional VOD (TVOD)
In this model, audiences pay for each individual piece of video content they want to see. It can include:
a) Electronic sell through (EST)/Download to own (DTO)
b) Download to rent (DTR)
Examples of this kind of platform include: iTunes, Film4oD, Vimeo on Demand.
Subscription VOD (SVOD)
In this model, audiences are charged monthly fees in return for accessing the platform's full library. Examples include: Netflix, Amazon Prime, Hulu Plus and HBO in the U.S., and Now TV, MUBI, Dplay, and Teleclub in Europe. C More First is a Scandinavian contender. RTL is popular in Croatia. Viaplay is a Nordic service. And Voyo operates in Eastern Europe.
Advertisement supported VOD (AVOD)
Viewers watch content for free on AVOD platforms - however, they must watch advertisements at various points throughout the film. A portion of the ad revenue is then returned to the content provider. Examples include: Youtube, Hulu (US) and Snagfilm. In addition, individual television stations might stream their programming through their own website soon after broadcast.
If your target audience is low-income, the AVOD option may be the one that makes it possible for them to see your film.
As of March 2018, a CNBC All-American Economic Survey showed 57% of the US public has some form of streaming service. That 51% percent of American streamers subscribe to Netflix, the survey showed. That 36% report having both a streaming service and cable or satellite. That is nothing to snooze at!
The number does vary by market though, and generally favours urban areas. The platforms you select will make a difference. For example, in 2017, Netflix held approximately 75% of the total number of over-the-top (OTT), i.e. internet-based, SVOD subscribers in the U.S. By 2018 in the EU it held 47% (Amazon held about 20%). But in other markets, Netflix faces strong competition from national players and has a lower-than-average market share. This is the case in particular in Spain, Poland, Slovenia and Romania. More on that in the Regional Players section below.
Filmmakers who are self-distributing still need to work with an aggregator or a supplier (like Quiver Digital) with an existing output deal for all these digital retailers.
DVD / Blu-ray
These days we see a decreasing interest from distributors in taking sole DVD rights. Most often, they'll only take DVD rights bundled with other rights like VOD. But it's important to remember that DVD might still be the most appropriate platform for reaching certain audiences - such as older audiences, or films that lend themselves to being collected or archived. In addition, the educational market (schools, colleges, universities and other institutions) is still dominated by DVD, although that is changing, too. And finally, let's not forget that community screenings are generally still powered by the humble DVD or Blu-ray.
Television
With so many innovative routes to audiences, it can be tempting to gloss over the role of good old TV in your Impact Distribution campaign. That would be a massive mistake.
Public media in the U.S. reaches 99% of people and while it's growing, that is still not the case for digital platforms. Television in general is still the dominant way audiences access media, even as the number of people who stream content through on-demand platforms ("streamers") increases. For example, according to Nielson's 2017 Q4 report , on a typical day in November 2017 in the U.S., 93% of streamers watched traditional TV. Of those, 47% watched TV only, 46% were reached by a mix of traditional TV and streaming, and only 7% streamed exclusively.
'Even the heaviest of streamers can't seem to shake broadcast viewing. A true story in Nielsen data, reaffirming the powerful reach and relevance of local media in our daily lives.'
In addition, a TV broadcast will often create a new tide mark in public engagement with an issue, and can even offer a rallying moment for partners and audiences or boost digital viewing. Take Stanley Nelson's Black Panthers: Vanguard of the Revolution. In its television premiere, the documentary received the highest rating ever for an Independent Lens film and became the most-streamed Independent Lens film online. The broadcast hoisted the film up to become one of Twitter's trending topics for five hours on premiere night.
% trans "Geek Out: Ideas for further reading" %
Bully offers another example. When it was first released in 2011 it had already been seen by over 3.5 million kids. But its U.S. broadcast in October 2014 on Independent Lens during National Bullying Prevention Month allowed the film team to reach an additional 1.2M viewers in a single shot.
Or Blackfish, which after a successful theatrical run was broadcast on CNN Films to over 24 million viewers in the USA, the tipping point for the phenomenal public response to the film, and the moment when SeaWorld realised it was not going to go away.
A broadcast can be of real value to campaign partners, some months or even years after the initial release at festivals or theatres.
A great example of this is American Promise, which reached around 1.5M viewers with their broadcast on POV. They collaborated with local PBS offices to boost their community engagement efforts - PBS SoCal, its South California office, worked on the American Graduate campaign, organising events to help reduce school dropout rates and keep kids in education till graduation. Organising activities around American Graduate Day, they ran workshops for teachers, parents, children and students of all ages, distributing interactive learning games, apps and other educational materials to keep kids engaged. You can read more about their community activities here.
But let's also not forget, broadcasters can make outstanding partners too - and they can really engage with your ongoing campaign strategy.
Lindy Lou, Juror Number 2 aired on POV in July 2018. But the 16th World Day Against the Death Penalty was coming up that October, so POV made sure to open up access to the film for community screenings. This ended up adding important value to the campaign long-term.
'Unfortunately, many of the issues these films address persist. So documentary impact and engagement has to respond with flexibility.'
Skip back to the Partners and Funders section for a refresher