Impact in action
Consider your subjects
Consider your subjects
People agree to be the subjects of documentaries for many different reasons. Their emotional involvement can go from just giving an expert interview to allowing cameras into their private lives and sharing raw and painful experiences. So while there is no template for the appropriate relationship between subject and filmmaker, there is a legacy of ethical considerations that guides the field.
That said, many of the films that have created deep change have relied on the participation and courage of their subjects that goes way beyond appearing on screen. They can become partners in change, in some cases having a longer lasting commitment to the work than the filmmaker themselves. But this can also come at a price.
As a field committed to using documentary for good, it is important that we do our best to avoid harm and unintended consequences. And, whereas it may be impossible to keep everyone safe all the time, as this example illustrates, it nonetheless follows that it is the film team's responsibility to proceed ethically and with accountability. (Section 3.6 below goes over valuable safety and security considerations.)
In the film Bully by Lee Hirsch, protagonist Alex Libby went from a silent victim to an advocate and spokesperson for a cause which has taken him all the way to the The White House. He was whisked from a reality where every meal was insecure to becoming a celebrity and hanging out in billionaires' homes almost overnight. Each year hundreds if not thousands of schools across the country watch and discuss Bully. The number of young people who know Alex and others in the film is really significant. Lee admitted that the instant celebrity was thrilling but also very hard and confusing for Alex, who is on the Autism Spectrum.
An article in the Des Moines Register from the height of the campaign shared that Alex's mother Jackie knew she didn't need to be as involved as she was in the campaign, but when she thought about "what might have happened to Alex if the moviemakers hadn't spotlighted his plight" she felt compelled. Noting that a national group has counted nearly 2,000 suicides of bullied children, she explained: "That's 2,000 families that have lost their children, and they're never going to get them back." As Jackie traveled with Alex to so many anti-bullying appearances with feverish intensity, she eventually lost her warehouse job.
The intensity took a toll and family structures fell apart. While Lee recognises that none of them realised the extent to which the film and campaign would take off, he nonetheless felt a tremendous responsibility to the family.
'I ended up caring for Alex for a couple of years as an unofficial foster parent to him and his educational advocate which propelled me into a yearlong and ultimately victorious lawsuit with The New York City School system to win Alex funding for a special school that could meet his needs. Partly because of the road we traveled together for the impact campaign, I felt a deeper level of responsibility to him.'
The Cove offers a different kind of example. This powerful and hard-hitting film about a US environmentalist who exposes dolphin hunting on Japan's Pacific coast was highly acclaimed, and even won an Oscar. It is credited with pressuring the World Association of Zoos and Aquariums (WAZA) to cut ties with its member group in Japan and subsequently getting it to ban its members from acquiring dolphins from the Taiji dolphin drive fisheries, as well as reducing the country's dolphin catch, although some activists debate the centrality of the film's role in this. " %}
Years later, this Guardian article tells the same story but from the perspective of the Taiji dolphin hunters, whose centuries-old whaling heritage was under scrutiny. With their voices in the mix, the narrative becomes more complicated, and the question of positive impact less clear-cut. New York-based Japanese film-maker Megumi Sasaki, who responded with her own documentary on the matter, A Whale of a Tale, explained:
'As long as we have pressure from outside the country, the more determined Japanese people are to continue it… It's such an irony.'
If they had to do it all over again, The Cove filmmakers may have made the same decisions. The key consideration is that when positive impact is the goal, engagement with affected communities is essential, irrespective of the final decisions about where to take the story. This is a practice and principle that helps guard against extractive filmmaking, wherein the team interrogates the balance between artistic independence and a commitment to the activists and community leaders they represent in their work. That's the model that Skylight Pictures has developed at SolidariLabs, which brings together social justice filmmakers with activists and community leaders for mutually supportive, trust-based relationships where artistic independence can thrive.
It is part of your strategic planning to figure out if it's useful and appropriate to your film and plans to involve your subjects and at what level.
Perhaps most importantly, we recommend that once your film is complete, you sit down and fully brief your subjects on the merry-go-round that is a film's launch - from festival premiere to cinema screenings, press, social media etc. The conversation should also cover the longitudinal commitments available on the impact campaign - regional schools tours, speaking to lawmakers, etc. And once you've laid it out, ask them, what do they want and not want? Are they prepared for the attention and commitment of agreeing to be both in the film and part of the campaign?
You need to unpack the opportunities and the risks for them. How long will this go on for? Will they be compensated? Are there security considerations? What are the implications for their dependents if they are going to be out on the road with the film? Are their expectations of what the film might do for them too low? Or are they too high? (Section 3.9 on building effective partnerships digs into navigating this relationship further.)
Depending who your subject is, the following might help frame your conversation and with planning your next steps.
This diagram asks you to consider whether your subjects want to play a leadership role, and also whether they are vulnerable or might be made vulnerable by the process of being in the film or appearing publicly with it.
What's your responsibility to your subjects?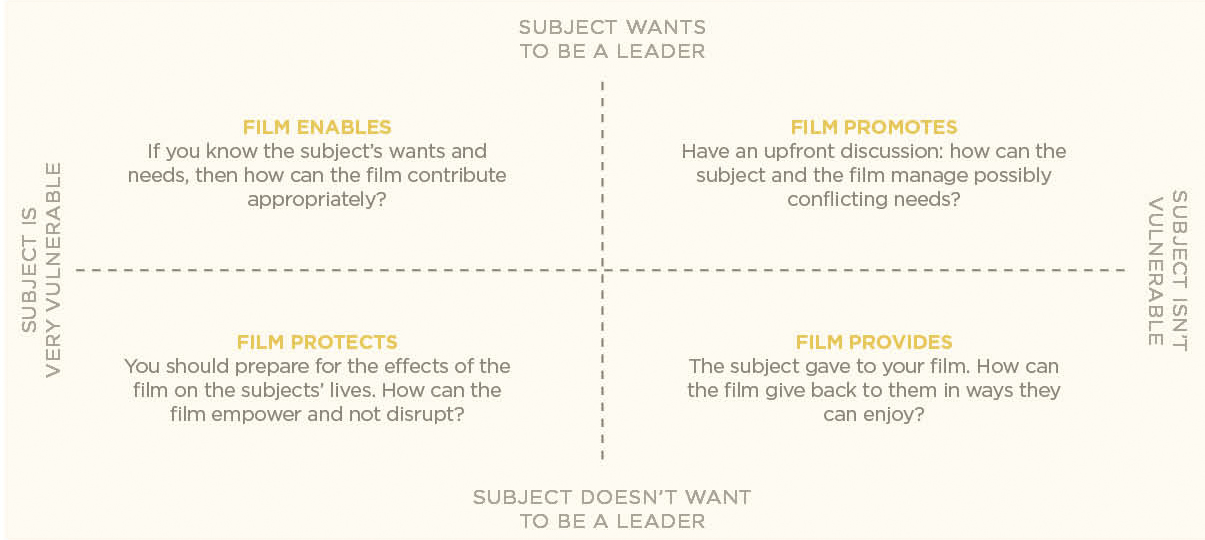 Additional considerations
If your subject is already in a leadership role:
How can the film help to propel them and their work further?
The protagonist in the film The Interrupters by Steve James is Ameena Matthews. At the time the film was made, she was a powerful but largely unknown figure beyond the streets of Chicago. The aim of the film campaign was to propel the organisation and model she was spearheading onto a national stage. And they were successful. Suddenly, Matthews was on the front page of every paper, she was winning awards, she was traveling all over, and new opportunities were emerging for her.
It isn't always so straightforward. In some cases, focus on one individual leader and the attention from the media and audiences may cause unexpected tensions within their organisation or community. You need to prepare for it. Success and exposure can be complicated.
If your subject is an emerging leader:
Many people find that the experience of becoming a spokesperson for the film propels them to become a community leader. They discover a new role and gravitate towards it.
For example, Mahoma Lopez from the Hot & Crusty bakery in NYC, who appears in Rachel Lears and Robin Blotnick's The Hand That Feeds, could not have anticipated what was just around the corner for him. He leapt from sandwich-maker, uniting his undocumented immigrant coworkers against abusive conditions, to leading the Laundry Worker's Center off-screen long after the film campaign ended.
'Having this documentary about a tremendous campaign success has been really valuable. It helps me inspire the workers and show them what's possible.'
Can you help to enable this journey for emerging leaders alongside the journey of the film? What kind of practical and emotional help do they need to do this? What resources do they need so that they can take the time off work, or connections to organisations that they can team up with?
If your subject is vulnerable:
Trusting a filmmaker and letting them into your life is one thing, but making sure they understand what is to come is another. Because the moment it is shared with hundreds of people at the premiere, as well as the buzz thereafter, can be overwhelming.
While filming her documentary CARE, a story about the experiences of home care workers and their older clients, Deirdre Fishel was faced with a series of ethical decisions. She tells the story of a conversation she had with one of the women in her film, Delores, who worked for a home care cooperative in the Bronx. When Deirdre mentioned the film's broadcast on PBS, Delores asked: 'What do you mean?'
'That was a hard moment,' says Deirdre. Because Delores was introduced to the film through the cooperative she worked for, she thought Deirdre was making a film for them. 'Somehow I didn't make it clear enough that I was an independent filmmaker and what my goals were for distribution.' And as it turned out, Delores felt very uncomfortable about having shared her story of becoming homeless, given Deirdre's hopes for broad public exposure. In the end, Delores agreed to proceed after seeing that she was portrayed as a hero for continuing to care for elders despite her own hardship. But had she felt differently, the choices Deirdre would have had to make would have been very complicated because they couldn't have made the film without her and their budget would not have allowed them to film someone else.
'It became clear to me how much you have to discuss not only filming, but your hopes for the life of a film after you're done portraying people's lives. I now make it as clear as possible to all my film subjects that for every film it's my intent for it to be seen as far and wide as possible.
Another one of the protagonists in CARE was Vilma, who was undocumented at the time. Deirdre worried for her, so she consulted with filmmaker colleagues on the best way forward and determined that it was important to be as clear and honest as possible. Though, at the time, there was no history of US Immigration going after undocumented film subjects, the team would not have been able to protect Vilma if they did. Vilma understood the stakes but decided to proceed anyway. She was frustrated and was willing to take some risks to get her story out there. She also hoped that by the end of the story, she would have her Green Card, and weighed that into her own decision-making.
There was a more complicated dynamic related to another of the film's protagonists, Dee. Dee suffered from dementia and, though she had moments of lucidity and seemed keen to participate, Deirdre wondered: would she know what she was agreeing to? So, Deirdre consulted with Dee's family and got their signed permission as well. She also consulted with a lawyer. And she spoke to Dee often and at length about the film production. But Deirdre also had to weigh other ethical choices. In one scene, for example, Vilma helps to shower Dee. The decision to allow viewers a window into how intimate these caregiving relationships are was an important one for the story. But it had to be weighed against questions of consent. Choices like these are never easy but Deirdre continued to engage in open dialogue with Dee, her family, and with her colleagues as she proceeded. At Dee's passing, her family wanted Deirdre to know how important it would have been to Dee, a Christian woman, to know her story and experience would be used in some way to help others. 'The more I make films," says Deirdre, "the more I feel you just have to be honest about the risks and the open questions.'
How can you protect your subjects from exposure that feels uncomfortable? To what extent is it possible to protect them? To what extent is it a filmmaker's responsibility to do so? Sometimes these answers are not so clear. The best we can do is empower them with the truth and do our best to help while making sure that the whirlwind of the film doesn't turn their lives upside down.
Try a trauma-informed approach
Sonya Childress of Firelight Media and Twiggy Pucci Garcon of the True Colors Fund have worked to lift up and apply "trauma-informed care" (TIC) principles to the context of documentary film. In presentations they've offered at Firelight retreats and at the Allied Media Conference in Detroit, they have shared TIC principles and asked filmmakers and impact producers to consider the emotional safety of a film's protagonists, as well as for the filmmakers and impact producers who work with them.
When film protagonists participate in the release it presents an opportunity to share their story and engage in discussions with the press, audiences and key stakeholders in real time and online. This can result in a mix of positive and negative repercussions for protagonists - both personally and professionally. This is particularly true when the protagonists are not representing their professional role, but rather sharing a personal experience on film.
In these sessions, Sonya and Twiggy present various scenarios where TIC principles may be called upon to prepare a protagonist for or shield them from the possible negative repercussions of participating in the festival run or impact campaign. Sometimes, a film's protagonist is pressured to retell a story (at a screening, to press, etc.) and when that story includes experiencing trauma (or witnessing trauma) it can both be triggering and painful for them. Sometimes, the audiences of festivals or public screenings are quite different from the protagonist, revealing uneven power dynamics when audiences expect protagonists to be vulnerable (or celebratory), or feel entitled to ask questions of the protagonist that push them outside their comfort zone. How can impact producers or directors establish boundaries with the protagonists and event hosts to ensure the release and campaign experience is safe and mutually-beneficial for protagonists as well as directors and other stakeholders?
Sometimes the Impact Producer when asked to tend to the protagonist during the release of the film can also experience secondary trauma while holding space for the protagonist. The sessions explore ways that impact producers (and directors) can establish new personal boundaries and self-care strategies during the release phase that respect the needs and emotional safety of all parties involved. As Twiggy Pucci Garcon stressed:
'One does not have to be a therapist to be therapeutic.'
To this end, here are a few questions to consider as you prepare your teams:
What is it that you need to do to be accountable to your protagonists?
When considering the emotional safety of protagonists, what are you responsible for and what can't you be responsible for?
What level of transparency is necessary?
What resources may be required to support trauma-informed care to protagonists?
Does your plan account for the various ways people will consume the media post-release, including online strategies?
Ultimately, the TIC framework offers a model that encourages film teams to consider and prepare for positive and negative repercussions on the protagonist, and craft a release strategy in which the protagonists' needs are respected and addressed and that their resilience and agency are validated and built upon.
You have a responsibility to vulnerable audiences too.
Your film may also touch a very raw nerve for some audience members, perhaps because it tells the story of an experience they have recently gone through, or went through a long time ago. What have you put in place to help and guide people?
The Private Violence team provided leaflets at screenings of their film, encouraging people to volunteer to donate items for their local refuge or shelter, as well as providing tips on what to say/not to say to those who have experienced domestic violence.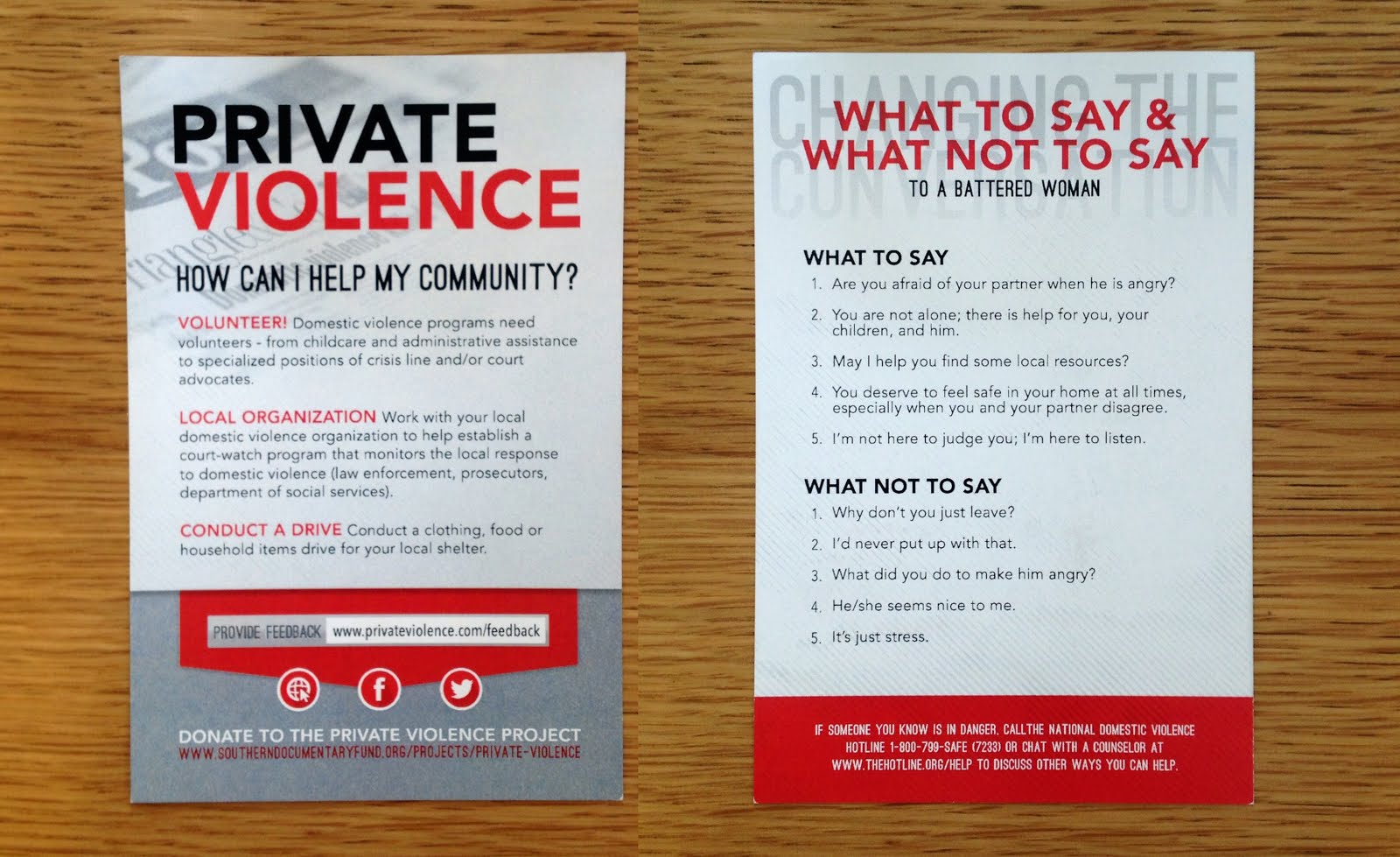 The Miners Shot Down team worked with Amnesty International to ensure that the community of Marikana had access to trained counsellors, fluent in the relevant local languages. Before its release, the film was shown to the widows with counsellors present. When the team, alongside a legal NGO, took the film to the rural villages that the slain miners originated from, it was crucial once again to offer psycho-social support to families and whole communities directly affected by the massacre as they were led through a deeper understanding of what had taken place.
Now let's turn to a film team's physical safety and legal security.
Geek Out: Ideas for further reading