Welcome to version 2.0 of the Impact Field Guide.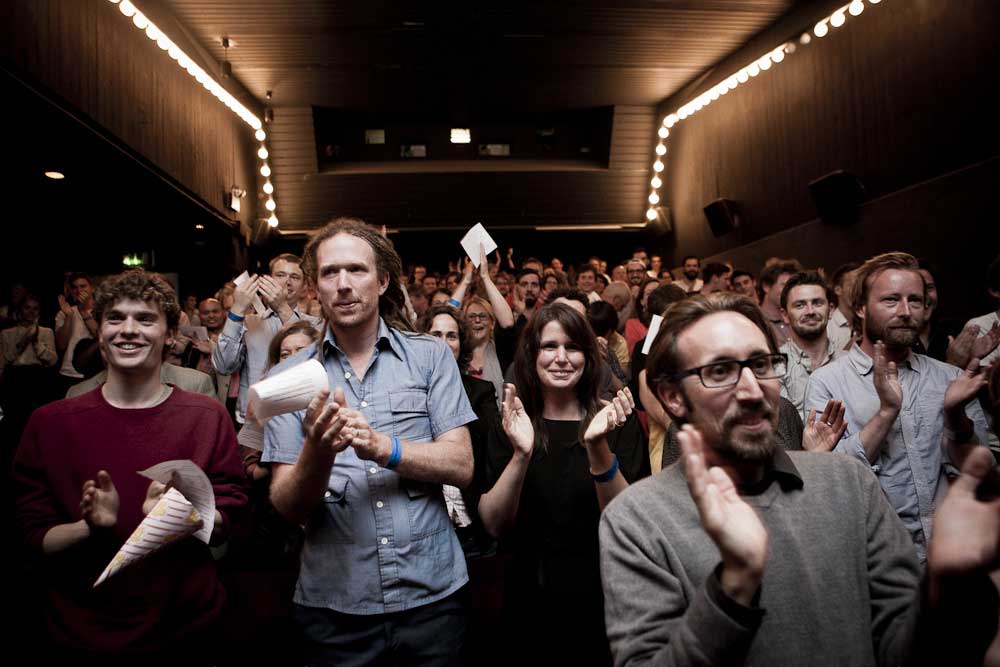 We believe that the 21st century has become one in which the power of film to change the world is impossible to ignore. And our mission is to share bold ideas and best practice with global filmmakers and changemakers. To make sure the most important non-fiction documentary films reach the audiences that matter. We are Doc Society, a non-profit Foundation with team based in London, New York & Amsterdam, working to support the global community of documentary filmmakers. And we are delighted that you have picked up the Impact Field Guide. An open source resource being used by over 55,000 filmmakers and change makers around the world.
Through the hard work and commitment of thousands of dedicated individuals working in the intersection of film, community & movement, we've seen it all this past decade: profound artistic contributions, journalistic revelations, radical innovation and serious societal change. This updated guide is intended to harness some of that energy. Not to control it or pretend that there's only one way to do this work – nothing could be further from the truth. We offer ideas and approaches so you don't have to solve a problem that someone else has already cracked, and can focus on the unique challenges of your own project.
This new edition of the Impact Field Guide was lovingly & tirelessly updated in 2019 by Impact Strategist Sahar Driver in San Francisco. The design materialised by our colleagues Sarah Nicholson & Matt Fisher at Involved Design in London.
Once again we've drawn on collaborations & conversations with incredibly smart film teams, academics, cultural curators, Impact Producers and their partners from all over the world. For this latest edition, that included contributions from: Jad Abi-Khalil, Macky Alston, Abigail Anketell-Jones, Lindsay Green Barber, Julia Bacha, Stephanie Bleyer, Kylie Boltin, Jeffrey Bowers, Caitlin Boyle, Marco Cartolano, Giuliano Cavalli, Sonya Childress, Kristy Chin, Brenda Coughlin, Inti Cordera, Santhosh Daniel, Abby Davis, Fiona Dawson, Dina de Veer, Cristine Platt Dewey, Jamie Dobie, Jo-Jo Ellison, Violet Feng, Deirdre Fishel, Edie Gill Holder, Amelia Hapsari, Lee Hirsch, Will Jenkins, Anita Khanna, Judy Kibinge, Fiona Lawson-Baker, Rachel Lears, Sheila Leddy, Alex Lee, Wendy Levy, John Lightfoot, Kathleen Lingo, Mary Macrae, Ani Mercedes, Molly Murphy, Joanna Natasegara, Ina Pira, Michael Premo, Alice Quinlan, Khushboo Ranka, Larissa Rhodes, Theo Rigby, Flor Rubina, Ellen Schneider, Michèle Stephenson, Fran Sterling, Paulina Suárez, Sandra Tabares-Duque, Jennifer Maytorena Taylor, Poh Si Teng, Ayse Toprak, Sophy Sivaraman, Ilse van Velzen, Lynette Wallworth, Emily Wanja, Banker White, Sydelle Willow Smith, Malinda Wink, Samantha Wright, Pamela Yates, Luis González Zaffaroni, Amy Ziering.
In this INTRODUCTION we offer theoretical and practical foundations to get the wheels turning. Spend a few moments reflecting on how art inspires change. Get to know several in-depth case studies featured throughout the guide. We have links to a great many more, all in our Library. We recommend you read as many as possible – particularly for films or campaigns closest to your own work.
Our section on PLANNING FOR IMPACT guides you through developing your vision and strategy to achieve your goals. IMPACT IN ACTION encourages you to think about who does what and how much it will cost. IMPACT DISTRIBUTION explores who will see your film and how they might experience the impact. MAKING AND MOVING SHORTS is our new chapter that examines this form in the context of renewed interest in it. MEASURING IMPACT completes the circle with methods to track outcomes that tie directly to your goals. In this updated version, we include a new chapter on working with short form films, updates on global distribution, considerations around risk and safety for film subjects, reflections on filmmaking as an emancipatory practice and new examples of innovative film campaigns from every continent.
The toolkit isn't definitive, but it's meant to get you started on your journey. That's also true culturally. While this updated version draws heavily from American and European contexts, it also contains examples from colleagues working from Australia to China and India, to the Democratic Republic of the Congo, South Africa, and back up to Colombia.
What we want most is to hear from you. Tell us what you think works for you and what doesn't. Help us to create a better resource for all.
Most of all, we're excited to discover what tomorrow's filmmakers are going to do with their work. The possibilities are endless.
With love and respect to all embarking on the journey,