'Mediamakers often think they are starting a movement but haven't checked to see if there already is a movement'
First step is to map the issue, to get to know the key organisations in your issue environment. You'll probably have done this already as a natural part of the filmmaking process. But if not, take the time now to brainstorm the key voices on the issue you're involved in and find out what their key ambitions and strategic priorities are. The value of investing in research and relationship building to inform the filmmaking and impact planning process cannot be underestimated.
This is vital precisely because film is such a powerful medium for change. That power brings responsibility. And when we don't recognise it, things can go wrong.
That's not to say you have to go along with the conventional wisdom. Film can bring new energy to an issue, and you may decide a different strategy – but only after you've learnt who is who in your issue environment, and considered their viewpoints and plans.
Map the issue landscape
EXPERTS AND ACADEMICS
BRANDS AND COMPANIES
CAMPAIGNERS AND ADVOCATES
FUNDERS AND PHILANTHROPISTS
POLITICIANS AND POLICY MAKERS
PRESS AND MEDIA (established and digital)
NGOs - SMALL (HIGHLY ALIGNED)
NGOs LARGE (WITH RESOURCES)
PUBLIC FIGURES
TIP: Create a database now that tracks everyone in your film / campaign world and code by organization type and issue interest:
(L) –- already a sympathetic Leader in the issue
(T) –- they are a Target of engagement
Share it with your team and then brain storm some more. Here's an example from The End of the Line, with some questions to help prompt you.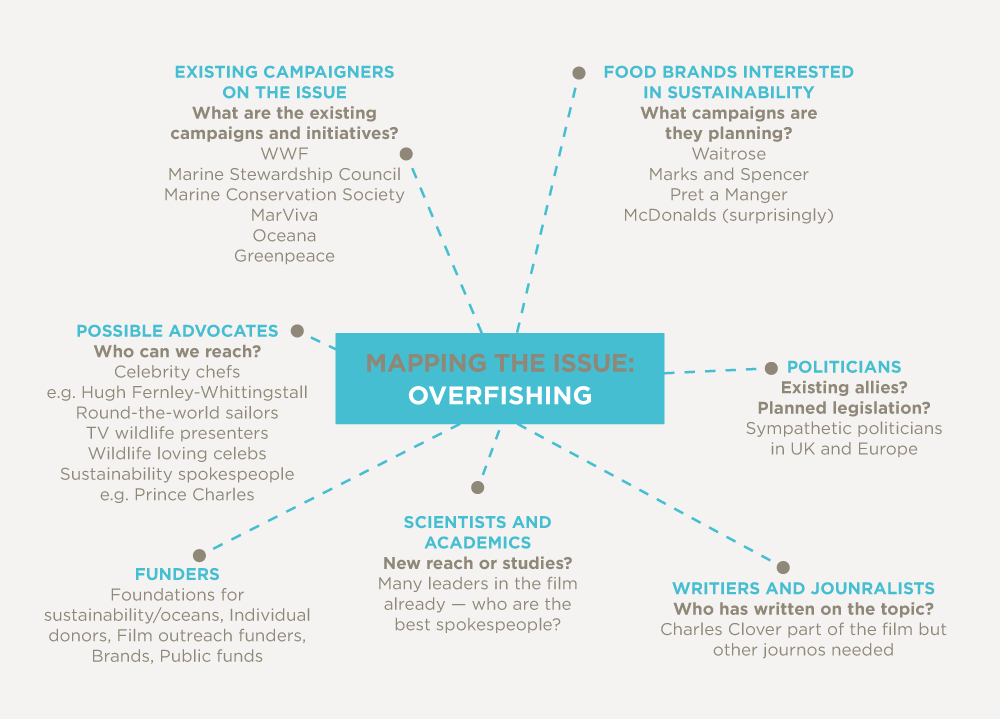 There are all sorts of ways to do this work, but our favourites are:
Find an insider and make friends – relationships are hugely important in change work, so starting one on the inside of an issue before you've even really got going on the film is a very smart thing to do
Hit the conferences and events – think tanks and universities across the world hold public events all the time, and there's more than likely to be events that are at least relevant to the issue you're digging into – get yourself there
Review similar films – to see what there is out there that's related to what you're trying to do – and find out everything you can about the projects. Other film teams will probably let you stand on their shoulders. Ask them.