'Mediamakers often think they are starting a movement but haven't checked to see if there already is a movement'
Map the issue landscape
The first step is to get to know the key organisations in your issue environment. Some of this has likely been done already as a natural part of the filmmaking process. But this is the time to find out what those organisations' strategic priorities are, which will likely inform your impact planning process and allow you to proceed in your efforts responsibly and with accountability.
First up, start thinking about all the key stakeholders who are working to solve the social problem that a film addresses. For example:
COMMUNITIES REPRESENTED IN THE FILM
EXPERTS AND ACADEMICS
BRANDS AND COMPANIES
CAMPAIGNERS AND ADVOCATES
FUNDERS AND PHILANTHROPISTS
POLITICIANS AND POLICY MAKERS
PRESS AND MEDIA
MESSAGING AND FRAMING EXPERTS
NGOs - SMALL (HIGHLY ALIGNED)
NGOs LARGE (WITH RESOURCES)
PUBLIC FIGURES
TIP: Create a database now that tracks everyone in your film/campaign world and code them by organisation type and issue interest:
(L) –- already a sympathetic Leader in the issue
(T) –- they are a Target of engagement
Share it with your team and then brainstorm some more.
Here's an example from The End of the Line, with some questions to help prompt you.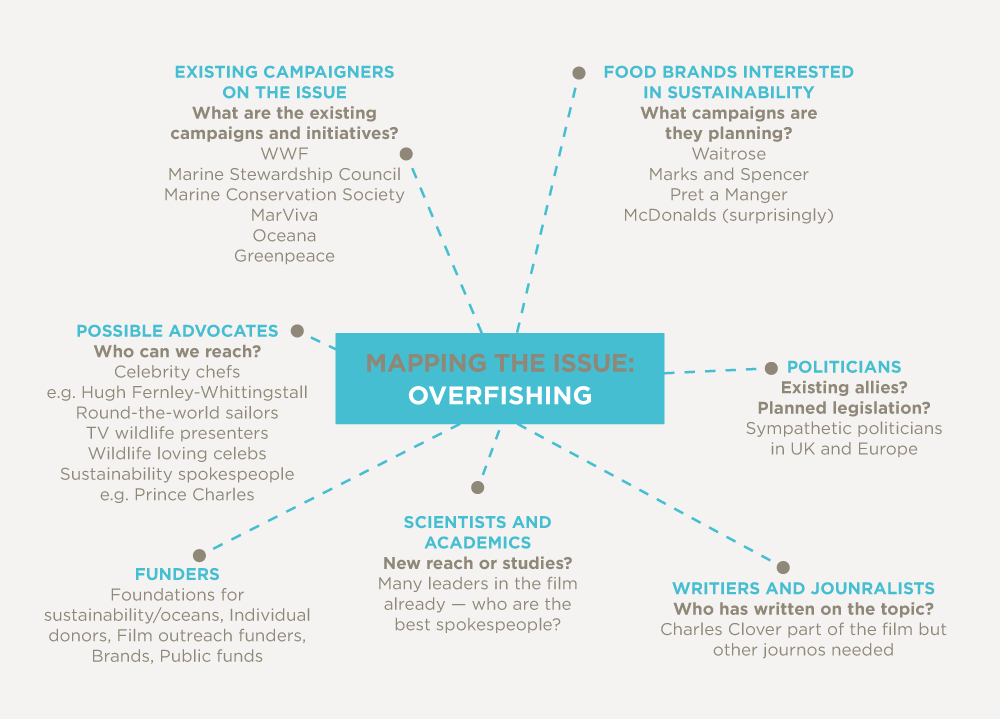 Beyond this mapping exercise, it could be useful to attend conferences & public debates. Think Tanks and universities hold public events all the time, and there's more than likely to be events that are relevant to the issue you're digging into. Get yourself there. It's a chance to hear from the field and identify aligned partners.
Review similar films to see what is out there that's related to what you're trying to do, and find out everything you can about the projects. Other film teams will probably let you stand on their shoulders. Ask them.
Then, armed with that list, think about who you want to prioritise to develop relationships with. This is hugely important in change work. Who could be your advisors, your council, your friendly critic from inside the issue movement?
Braintrust
Often, at this stage, an impact film team will pull together a braintrust to accelerate the process. A braintrust is a gathering that brings together people and organisations who are working on the problems your film addresses, so that they can offer their perspectives on your film and your early impact plans. It is often a 3-4 hour meeting that involves a screening of the entire film, or parts of it, followed by a structured conversation.
But not all braintrusts are the same. Some are cross-sector and aim to tap into the collective wisdom of people who are working on the issue from varied angles. Other braintrusts target key sectors or groups and aim to seed interest and buy-in to the project. And yet others aim to highlight the possibilities and inspire key leaders and funders to get involved in some way. Some are national in scope and others are hyper-local. Some gather feedback to help them finalise the film, while others help refine the campaign strategy.
Whatever you aim to do, remember: who you invite to a braintrust and how you structure your meeting will shape what you get out of it. So be thoughtful in your planning.
Here is one example of a simple structure, which DocSociety has offered to filmmakers in the past. Use it as a helpful starting point to your braintrust planning, but be sure to tailor it to your needs.
BEFORE THE MEETING
Solidify the meeting objectives and agenda well in advance
Put together an invite list that includes sectors, stakeholders, and the perspectives needed
Plan ahead to address accessibility issues and financial barriers for participants
Nominate a note taker from your film team to capture the discussion
Nominate a chairperson from your team to run the meeting
AT THE MEETING
Introduce the agenda for the day and the purpose of the meeting. For example:

To share more information about the film and impact campaign in order to recruit partners
To gather feedback on the film's impact potential as you finalise production
To gather feedback on the campaign objectives and activities as you start planning

Share context for the film and your impact campaign. Highlight the unique opportunity presented by the release of the film. For example:

The visibility it will gain through theatrical or broadcast distribution moments
The film's ability to communicate themes of relevance to them and their audiences
Any tools, support, or other perks of partnership

Screen the full film or key scenes from the film. Be sure to make time after the screening for the room to react candidly before digging into planning. Often, the richest feedback comes in this moment.
Share the production timeline and distribution plans, then gather feedback and comments about how these might line up with their own calendars and interests. For example:

When do you expect to be finished?
How do you plan to release the film?
What are the main campaign milestones?
What are the different ways partners could work with the film at different times?

Facilitate a group brainstorm geared toward your braintrust objectives. For example, if your intent is to identify the various ways the film might be able to serve the movement or partners, then be sure to discuss:

The audiences or constituencies needed for real impact to occur
How best to direct those audiences or constituencies
Those who are missing among potential campaign partners (be sure to ask for intros)
The support you already have and the support you need, e.g.: funding, legal, research, networks, campaign expertise etc.

DON'T LEAVE THE ROOM WITHOUT making concrete next steps for follow up. Gather feedback on the best way to maintain communication and collaboration after the meeting.